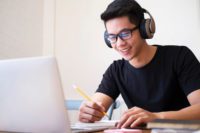 Touchstones® Online Classroom helps your students build discussion skills wherever they are! Learn more
All prices listed are for a full class set of 25 Student Editions and 1 Teacher's Guide. Please reach out to us at schoolprograms@touchstones.org to place your custom order.
As part of our mission, we always strive to meet the individual needs of every educator and work hard to make Touchstones accessible to all, regardless of economic circumstance. Get in touch to discuss options if finances are a barrier.
Elementary School 2nd – 5th grades
Discussion Leader Resources
How it Works
Designed for synchronous learning environments
Access is offered on an annual subscription basis running from July 1 – June 30
Teacher accounts include everything you need to prepare for and facilitate each discussion
Students can access texts to follow along and refer back to during the discussion
What You Get
Custom teacher account for easy access to the Teacher's Guide, Student Edition, and student Digital Binder for your volume(s).
Downloadable and editable Digital Binder in PDF form for your students to keep lesson activities and reflections all in one place