"During the discussion, someone asked at what age people should begin taking responsibility for their actions. Another participant responded it was only a year ago when she finally assumed responsibility for her prior choices. I was awed by her humility."

Touchstones volunteer at the Maryland Correctional Institute for Women
Volunteer with Touchstones
Volunteers are essential to Touchstones engaging new participants and communities in inclusive, respectful, and collaborative discussions. Through volunteers, our programs reach many learners outside the traditional K-12 or college classroom to build essential communication, interpersonal, and leadership skills. We believe all people need these skills to achieve their greatest potential—for themselves, their families, and society.
Touchstones provides volunteers with training and materials to deliver successful discussion programming with their groups. We rely on volunteers to identify where they would like to introduce Touchstones discussions and also to establish relationships needed for a program to launch. Our staff is available to meet virtually with volunteers and organizations looking to bring Touchstones to their constituencies. We will then help guide implementation and program development for optimal outcomes.
Touchstones also relies on volunteers within driving distance of our offices for occasional fundraising and special project support. That may mean preparing newsletters or other communications for mailings or helping to organize a local event.
Join our dedicated and collegial team of volunteers who help advance Touchstones discussions with everyone, everywhere. We'd love to hear from you!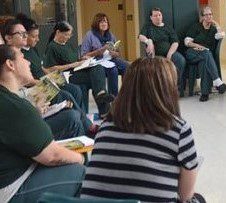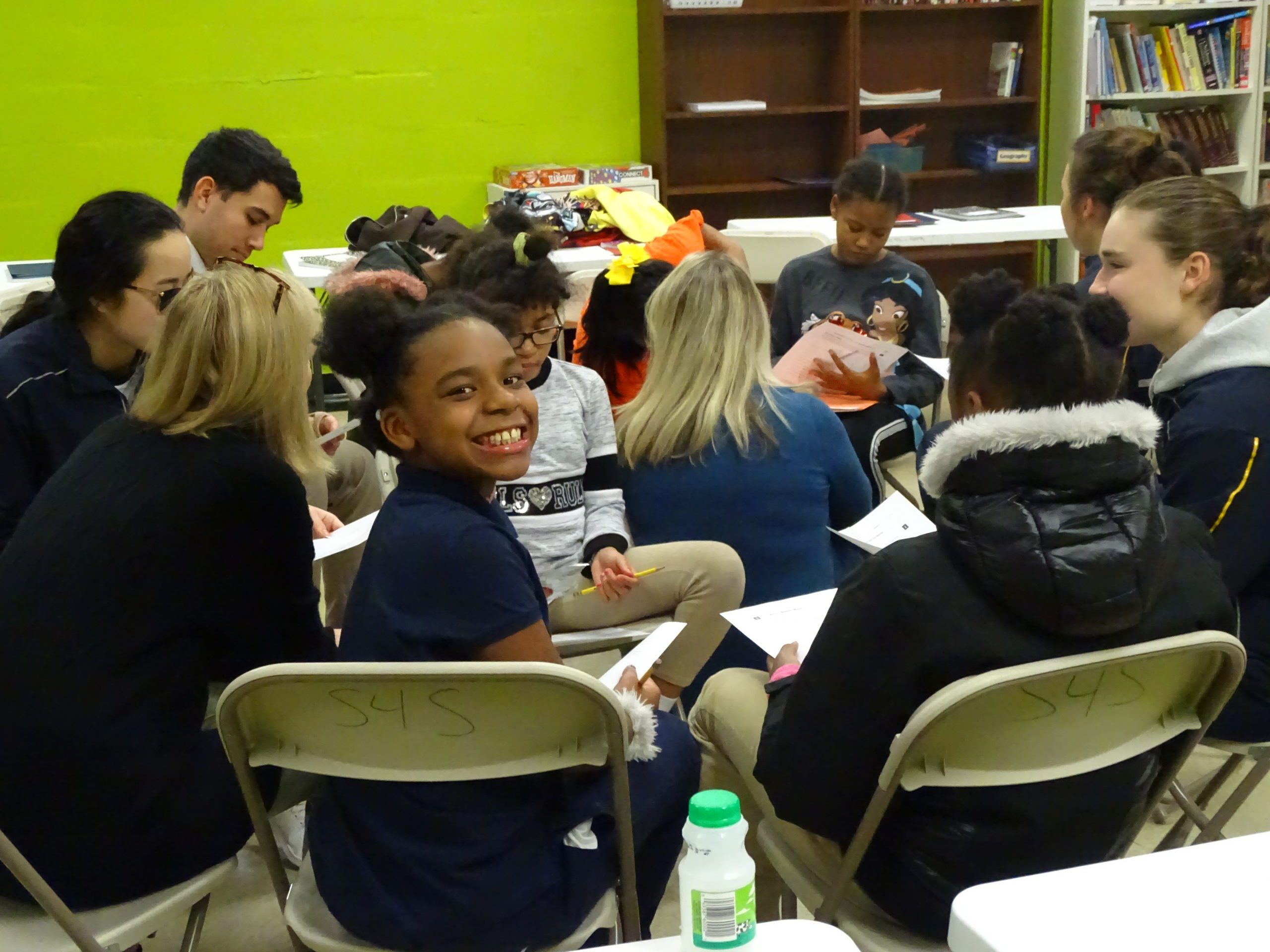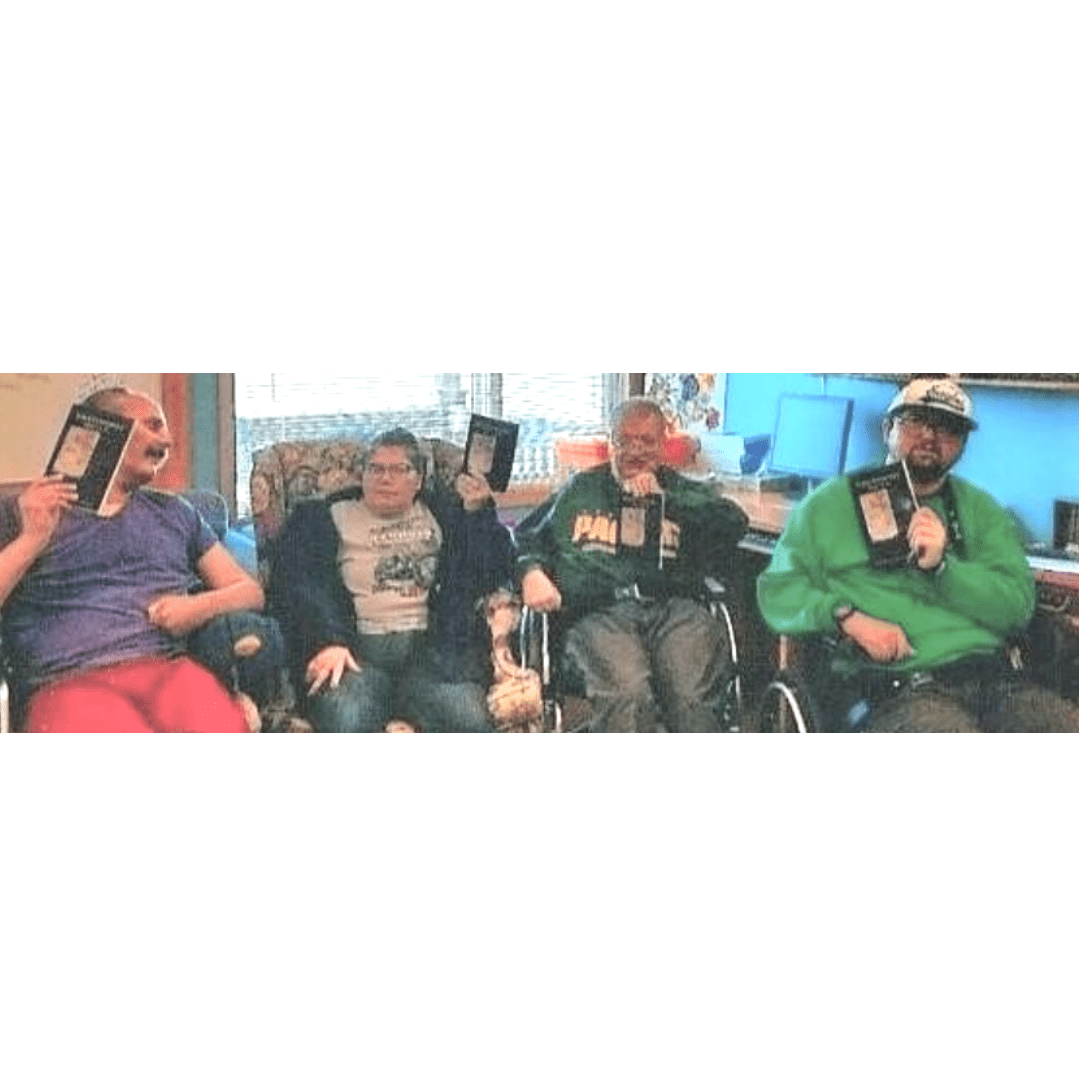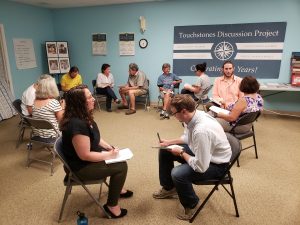 COMMUNITY PROGRAMS
Volunteers have the opportunity to lead a discussion group with veterans with Touchstones' discussion guide for veterans, run enrichment programs in non-profits that serve economically disadvantaged youth, begin a discussion group with senior citizens, lead a discussion group in a local community center, or participate in Touchstones week.
Touchstones provides training, support, and all materials required to begin a Touchstones discussion group.
Contact us about starting your own community group!
PRISON PROGRAM
For over 30 years, Touchstones staff & volunteers have co-participated in and led discussions in prisons with incarcerated individuals. Today, Touchstones staff runs two weekly programs within the school in the Maryland Correctional Institution for Women. Touchstones prison volunteers lead and participate in discussions with incarcerated individuals to support employment readiness, socio-emotional development, and enhanced literacy and communication skills.
Contact us to get involved with this program!
ONLINE COMMUNITY DISCUSSION
Touchstones began offering our free online community discussions to help people stay connected and as another way to make Touchstones more accessible to all. Participants come together from all over the world to think deeply about ideas and questions connected to the topic of community. Volunteers support this program by leading the discussions and supporting efforts to run this program.
Contact us if you are interested in leading an online community discussion.
SPECIAL PROJECTS
Touchstones relies on the help of our volunteers with various projects, such as phone-a-thons, mailing campaigns, and support with events. We are also looking to find a volunteer to help us coordinate volunteer activities, as we continue to grow our volunteer base.
If you are interested in helping us with these projects or others, please contact us to learn more.