Your gift to Touchstones supports inclusive and collaborative teaching, learning & leading.
I've been to hundreds of curriculum introductions and trainings. This is by far the best one yet. – 2022 Open Enrollment Workshop participant & Touchstones Teacher
Touchstones relies on your support to bring engaging and effective educational programs to people of all ages and backgrounds.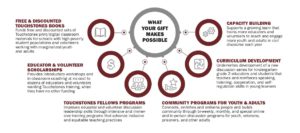 Thank you for your generous contribution!
Designate your gift below.