Celebrating Black History Month 2023
This year, we're celebrating Black History Month by highlighting the work of two renowned Black artists! Whether you're an experienced Touchstones educator or interested in trying out our method, these lessons will support your students in learning to speak intentionally, listen actively, think reflectively, and share leadership as they explore works from diverse genres. The interpretive nature of both of the works we've chosen can be particularly helpful to bring in students whose voices may be heard less often in traditional classroom discussions.
You can learn more sign up to receive our free lessons for Horace Pippin's The Getaway (grades 2-5) and Nikki Giovanni's "Love Is" (grades 6+) below.
The Getaway by Horace Pippin, lesson for grades 2-5
Our lesson for younger learners in grades 2-5 features The Getaway by painter, Horace Pippin (1888 – 1946). Pippin was self-taught and rose to fame as part of the folk art revival of the 1930s. His work depicts a variety of subjects, including scenes from African American culture, portraits, biblical scenes, and politically charged historical paintings. Our lesson invites students to explore The Getaway and collaborate to craft a story based on what they see. Students will cultivate their visual literacy skills as they practice responding respectfully to diverse perspectives and opinions.
"Love Is" by Nikki Giovanni, lesson for grades 6+
The lesson for learners in grades 6 and up features "Love Is" by poet, Nikki Giovanni (b. 1943). Giovanni is an award-winning and prolific author across many genres and a foremost author of the Black Arts Movement. Her work explores race, gender, and the African American family. Our lesson makes discussing poetry feel less daunting by inviting students to connect Giovanni's poem to their own ideas of love as they practice developing their own questions.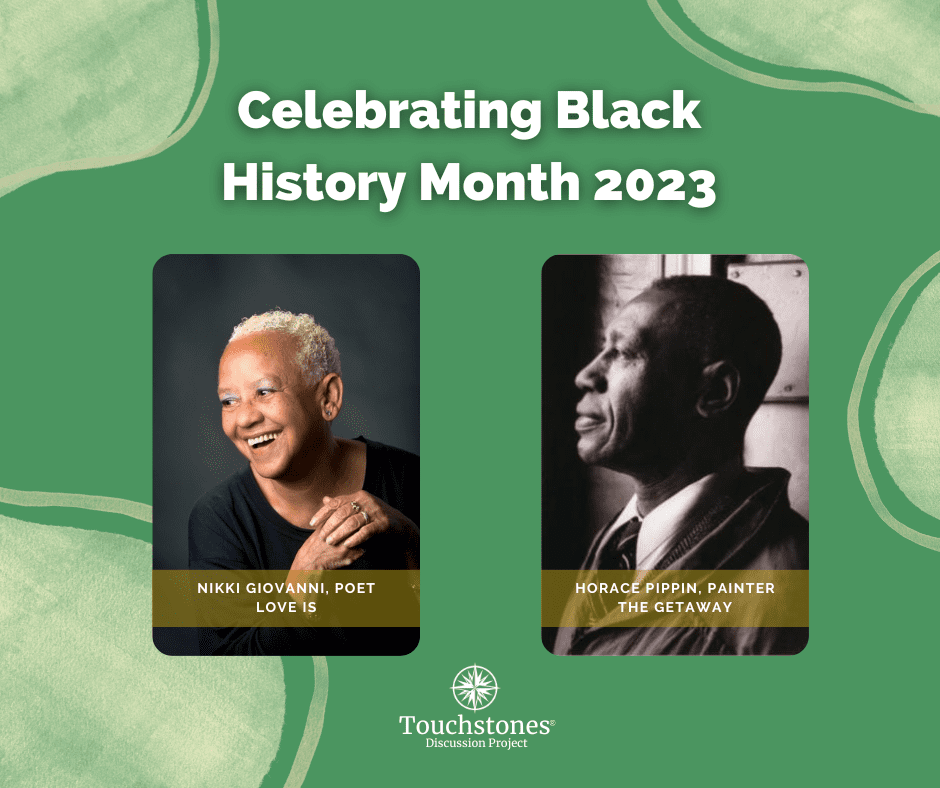 Sign up to receive our FREE Touchstones lessons exploring Horace Pippin's, The Getaway, and Nikki Giovanni's "Love Is"