Frankenreads: Celebrating Mary Shelley with Touchstones
In October 2018, hundreds of groups around the world celebrated Mary Shelley's Frankenstein on the 200thanniversary of its publishing. Some held live readings of the full text as others stage theatrical productions, in addition to a variety of other themed events in honor of the novel. The Frankenreads event, funded by the National Endowment for the Humanities, brought together numerous groups to explore the novel and the questions it raises on topics such as belonging, humanity, empathy, fear, isolation, creation, vulnerability, and goodness. Touchstones participated in the Frankenreads event by providing Touchstones lesson plans around an excerpt from Frankensteinthat is edited for students at different grade levels. We also provided an unedited excerpt and discussion plan for adult groups to use.
All teachers and group leaders who ran a Touchstones discussion that day received these materials electronically for them to print:
the group-appropriate Touchstones excerpt from Frankenstein
a worksheet designed to get all participants thinking about the passage and sharing their ideas with others
an evaluation tool for the group to assess its work together
a lesson plan for the leader – this includes suggested questions for discussion, some initial discussion strategies, and a timeline to conduct the complete activity in 1 hour
The selection chosen by Touchstones focuses on the monster's search for love and acceptance and the challenges he faces because of his appearance. Through Touchstones discussions around the country and the world, we hoped all participants would be enlivened and revitalized with new perspectives and experiences gleaned through shared exploration of ageless themes of compassion and understanding. We especially hoped this discussion would be a time for everyone to consider and reflect on the harm and cruelty that comes with judging a book by its stitching. The Frankenreads event is one example of the civic discourse that allows for growth and development of compassion and communication within our communities.
"I certainly agree with 'It makes one think!' and we've become a close knit group of friends through our Touchstones experience!"
During the first week of May 2017, Touchstones organized "Touchstones Week" to promote civil discourse and build community engagement and connection. This week-long celebration brought people together to engage in lively discussion and the exploration of new perspectives.
Highlights of the week included more than 25 different community organizations and civic groups hosting discussions around the U.S. and the world. Touchstones hosted its own local event on May 2nd with over 40 individuals participating in two discussion groups in Annapolis, MD. All groups and participants discussed a tale from Bhutan called "Four Friends."
The text was available in English, French, and Spanish. The feedback from Touchstones Week has been great, and many attendees want to start their own Touchstones groups. Touchstones Week proved to be a wonderful way to introduce the Touchstones method and mission to those who had never heard of Touchstones, as well as a great opportunity to re-connect with past and present Touchstones participants, friends, and supporters.
In addition to participating in the local Annapolis event, Touchstones co-founder and member of the Touchstones Board, Nicholas Maistrellis, held a Touchstones class with a group that teaches each other conversational Spanish and English. He reported:
"It went very well. They indicated that they would like to do something like this again. They liked both the story and the activity. I should say that I made a short presentation about Touchstones in Spanish. We also had a discussion about that."
This week-long project is one of the many ways that the Touchstones Discussion Project is committed to "building community through discussion everywhere!" Thankfully there is no reason that every week can't be a Touchstones week. Wherever you are and whomever you are, let's keep the discussion going! Contact us for help on how you can get started.
Touchstones Community Engagement Program for Teens 2012
Touchstones Community Engagement Program for Teens was a continuation of Touchstones' work that began in February 2011 (see "Community Engagement for Local Leaders"), with a group of adult and student leaders from across Anne Arundel County. At the end of that program, several of the student participants approached Touchstones and asked for a second segment. In this second phase program, which was offered only to high school students, the students themselves assumed responsibility for recruiting fellow participants. Touchstones staff designed and ran the custom program, secured meeting space and handled organizational logistics, and provided all program materials to the participants. For most participants, involvement in this program also served to meet some of the service requirements for the International Baccalaureate program.
Throughout the program, participants built portfolios that included their program readings and worksheets, as well as extended written responses to specific issues related to civic leadership. When asked to reflect on the importance of critical evaluation of expertise in relation to leadership, one participant offered this insightful response:
"Expertise usually enables one to attain the place of greatest power and authority in one's field. Experts are typically assumed to be leaders; however, this is dangerous because then many of the things they say can be irrefutable and assumed to be correct. Often time, even experts can be incorrect and it is important to recognize this."
As was the case with the 2011 Civic Leadership Program, all participants committed to a full day of community service. This group decided to participate and support National Night Out in Anne Arundel County, where they staffed the face-painting table and monitored children's activities in one of Annapolis's communities with public housing.
View a Letter of Thanks from the Annapolis Police Department.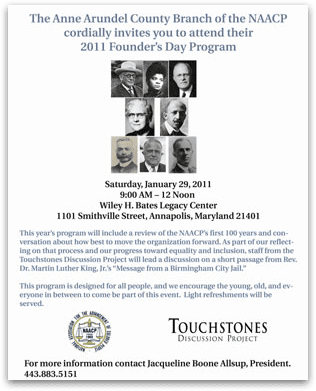 In 2011, Touchstones partnered with the Anne Arundel County Branch of the NAACP to bring extended Founder's Day programming to the citizens in the county. About 35 people attended a half-day of reflection and discussion that looked forward to the NAACP's next 100 years. Following an invocation from Reverend Henry Green and a welcome from the County branch's President, Jacqueline Boone Allsup, the group shared recollections of inspirational personal journeys that chronicle the tremendous change in our country's attitudes, beliefs, and laws relating to race relations.
This laid the groundwork for an extended Touchstones discussion on Dr. Martin Luther King, Jr.'s "Letter from Birmingham Jail," during which the participants looked closely at what has been gained and considered what is still needed to ensure a civil society in which all citizens have equal access and equal protection. Among the questions asked and considered were how to engage younger generations in continued progress in civil rights, what specific actions and activities will advance the on-going conversation about race relations, and whether technology and changes in our community structures demand entirely new approaches for successful communication on these issues.
Touchstones Community Engagement Program for Local Leaders 2011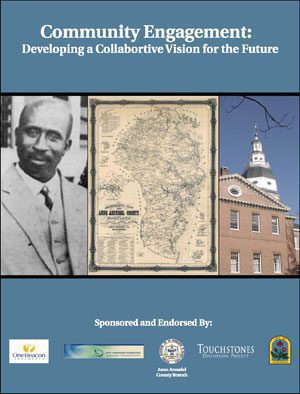 Thanks to support from the Civic Leadership Foundation and in partnership with the Mayor's Office of the City of Annapolis and the Anne Arundel County Branch of the NAACP, this free 10-session program brought together local leaders to effect greater civility and understanding through respectful community discussion from February 2011 through June 2011 in Anne Arundel County. This innovative program provided a format and content that leaders need to approach challenges with a new paradigm—one where collaborative leadership offers solutions to complex issues of paramount importance to the community: development, education, employment, the environment, housing, poverty, and transportation.
Throughout the first five program sessions, two groups met concurrently. One group included approximately 18 "senior" leaders from non-profit, civic, and religious organizations; local businesses; and City and County governments within Anne Arundel County. A similarly sized group of diverse "junior" leaders ages 15-18 from the County followed the same syllabus and meeting schedule. Half-way through the program, the groups were joined.
As part of their commitment to this program, all participants from both groups selected a community service project to which they dedicated seven hours of volunteer service. The group chose the Lighthouse Shelter in Annapolis as the recipient of their community service.