Touchstones Community Engagement Program for Local Leaders 2011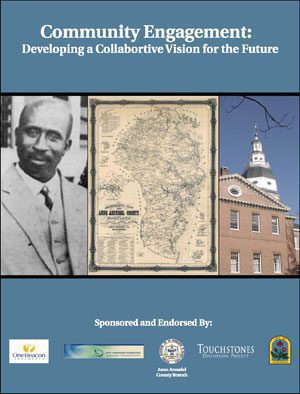 Thanks to support from the Civic Leadership Foundation and in partnership with the Mayor's Office of the City of Annapolis and the Anne Arundel County Branch of the NAACP, this free 10-session program brought together local leaders to effect greater civility and understanding through respectful community discussion from February 2011 through June 2011 in Anne Arundel County. This innovative program provided a format and content that leaders need to approach challenges with a new paradigm—one where collaborative leadership offers solutions to complex issues of paramount importance to the community: development, education, employment, the environment, housing, poverty, and transportation.
Throughout the first five program sessions, two groups met concurrently. One group included approximately 18 "senior" leaders from non-profit, civic, and religious organizations; local businesses; and City and County governments within Anne Arundel County. A similarly sized group of diverse "junior" leaders ages 15-18 from the County followed the same syllabus and meeting schedule. Half-way through the program, the groups were joined.
As part of their commitment to this program, all participants from both groups selected a community service project to which they dedicated seven hours of volunteer service. The group chose the Lighthouse Shelter in Annapolis as the recipient of their community service.