Current Programs
Community and Connection
Join veterans and civilians every Tuesday, 6:00 pm – 7:30 pm, from September 17th – October 29th for a 7-session discussion program to explore themes of community and connection raised in Tribe by Sebastian Junger and Homer's The Odyssey. Location to be determined.
There is no fee to participate in either program.
To learn more or to register, please contact Stefanie Takacs, Executive Director, at the Touchstones office at (410) 604-3309 or email st@touchstones.org or Sean Hutzell, Touchstones-NEH Project Coordinator, at touchstonesdp@gmail.com.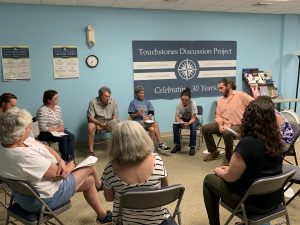 Joan Smith, wife of United States Army Vietnam veteran, discusses the paradoxes and struggle of defining prejudice and how it affects our interactions with those different than us.
History of the Touchstones®-NEH Together Program
This is the second grant Touchstones received from the NEH for discussion programs as part of their 'Dialogues on the the Experience of War' programming. Part of this grant has allowed Touchstones to create a new program, in addition to Completing the Odyssey: A Journey Home, to explore the connection and community that civilians and veterans strive to create.
Entitled Together, this program brings civilians and veterans into a collaborative discussion over the course of 7-weeks. Reading Tribe, by Sebastian Junger, as well as paired excerpts from The Odyssey and the group focuses on themes of belonging, connection, community, purpose, and understanding.